Easy Small Group Charter for 60 minutes
Great for a small group for a short ride of 60 minutes!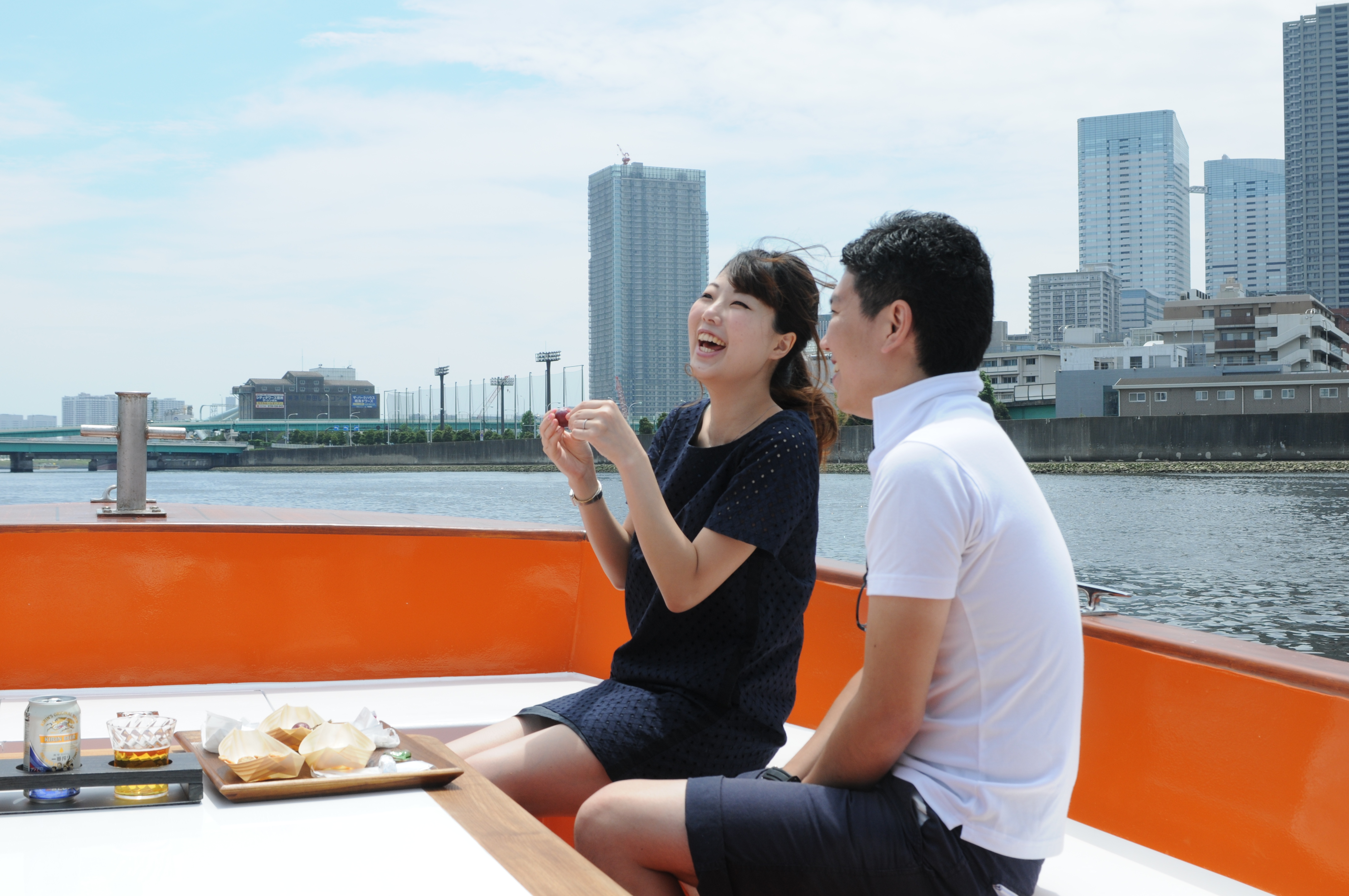 The plan offers the fixed route and departing/arriving pier for an easier charter.
・Cruise duration: 60 minutes
・Departing & Arriving Pier: Nihonbashi Pier or Asashio Pier only
See Pier Information for pier locations.
・Yen5,350 per person, tax included, no child fare.
・Minimum passenter count: 6
・With the payment of minimum amount Yen32,100 equivalent to 6 people, you can charter even for 1 person. Great for a couple for dating.
・No route customization, no extension.
・If you are a group of 9 people or more, a whole boat charter is less expensive.
・This offer does not apply to cherry blossom viewing season or fireworks.
◆Contact us for Details>Inquiry Form
Charter Fee ++Charter for two only at Yen32,100! ++ 
*Consumption Tax is included.
*If you are a group of 9 people or more, a whole boat charter is less expensive. Passenger capacity upto 12 people.
*Different fees will be applied for hanami cherry blossom viewing season and fireworks.
No. of Guest

Total Amount

(Yen5,350xNo. of Guest)

1 - 6
Yen32,100
7
Yen37,450
8
Yen42,800
*Extra charge Yen1,000 will be added for the use of Nihombashi Pier.
*Departure and arrival time should be within business hours of the pier you choose.
*Comsumption tax is included. Cruise service is not subject to tax refund.
*The above fee does not include food or drink.
◆Contact us for Details>Inquiry Form
You will see major Tokyo landmarks and sparkling city lights in 60 min.
*Click the map to enlarge.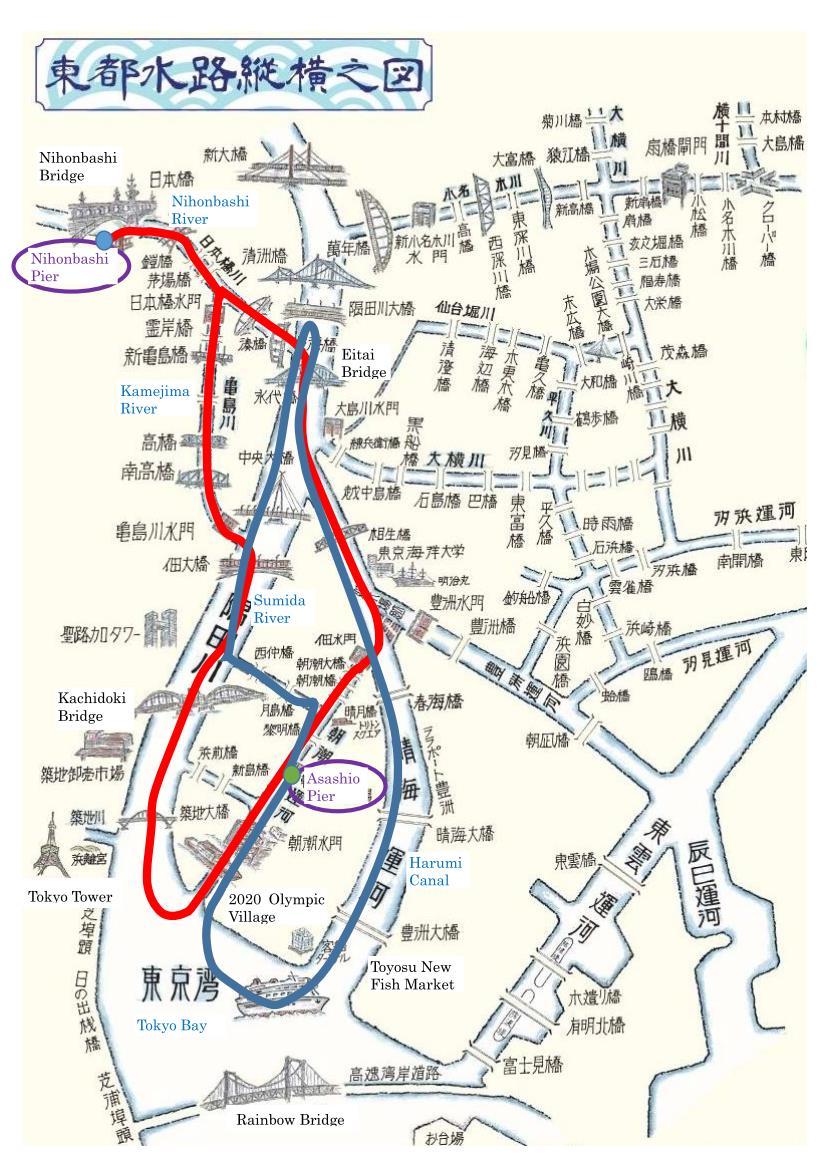 ☆Red Route:Depart & arrive at Nihombashi Pier
☆Blue Route:Depart & arrive at Kachidoki Asashio Pier
*The route might be changed depending on a wind speed or wave height on the day of the cruise.
*When a tide level is high, you are not able to use Nihombashi Pier. Kachidoki Asashio Pier is available. Tell us your preferred date and we will check the tide level of that day.
Important Notes
We are not able to accept extra number of people over the passenger capacity. Maximum passenger capacity is 12 people but you may feel too tight with 12. If you prefer spacious and comfortable cruise, appropriate number of people might be 8 to 10. 2 children under 12 years old are counted as 1 adult passenger. Example: 4 children + 8 adults = 10 passengers
River guide in English is available on request for free.
Different from large Yakatabune serving sashimi & tempra, we have no cooking facility in a cabin. Small microwave and an electric kettle are available if you'd like to warm your food.
We sell bottled softdrink.
No karaoke, no TV. Bluetooth speaker and CD player are available.
Mizuha is non-smoking boat even at a front-deck.
Pet is accepted only at a front deck even under rain. No cabin entry. Owner of a pet is fully responsible for pet's safty and elimination.
For further details, see Terms and Conditions.