Recommended courses
What do we see? How long does it take? Where can we go?
Here are some examples of cruise courses.
Depending on the time you have, you can combine two courses. We have other recommendations based on your preference. Canals in Shinagawa area, or Bayside area where Olympic game venues are planned.
Stunning city lights? Tokyo Skytree? Would like to drift or to spend quiet dark night?
We will help you to maximize your floating experience according to your request.
If weather/tide condition or construction work does not fully allow your request, we will propose alternatives.
Urban mini canal Kamejimagawa River (60min.)
1.1km long Kamejimagawa River passing near Hacchobori.
This river was very active as loading and discharging place for more than 300 years.
At night, lit-up bridges will welcome you.
Enjoy gap between a canal and ocean-like Sumidagawa River. Good view of Tokyo Skytree in a middle of Sumidagawa River at 1928 Kiyosubashi Bridge.
Very popular! Nihombashi, Sumidagawa River, Rainbow Bridge (90 to 120min.)
Classic but popular course departing from Nihombashi.
You will feel a sense of openness when Mizuha comes out from narrow Nihombashigawa River to Sumidagawa River.
See so many varieties of bridge design, 52m high Rainbow Bridge at the mouth of Tokyo Bay.
Romantic city lights at night, many Tokyo landmarks to see at daytime. Good for both sightseeing and dating.
River Triangle of Nihombashigawa, Kandagawa, & Sumidagawa River(90 min.)
Cruise under the elevated Tokyo Metropolitan Highway is one of the popular technoscapes of Tokyo.
Stone bridges and art deco bridges appear one after another in an upstream of Nihombashigawa River.
Then we see Ochanomize valley with green trees looking up JR trains and stations.
Wide-open Sumidagawa River gives you a little thrill of rolling.
Good for daytime cruise!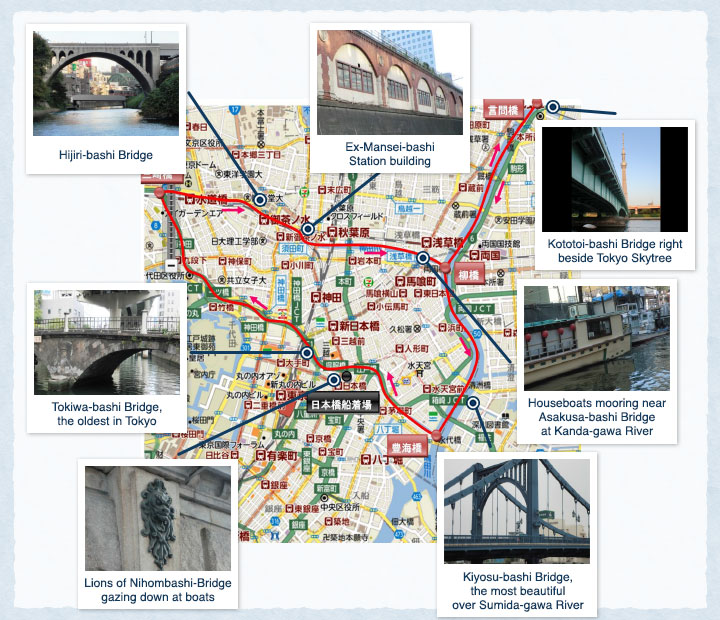 Double Rockgates(120 to 180min.)
Inner Koto area of Tokyo is below sea level. To protect the area from flood, at rivers in the area, drainage pumps are working 24 x 7 to keep the water level 1 meter lower than Tokyo Bay's lowest tide. Rockgates are used to adjust water levels between inner rivers and outer big rivers such as Sumidagawa and Arakawa River in order for boats to cruise through two different water levels.
We have two rockgates, Ogibashi Komon and Arakawa Rockgate. Experience flood defense mechanism by a cruise.
Operation hour of two rockgates is daytime only.