Our requirements for building Mizuha
As short as possible from waterline to cruise under low-girder bridges even with higher tide
Should have "Funa-sajiki" a front deck for wide-open view to feel high sky, breeze, and lights
Want comfortable facilities small riverboats usually don't have. Such as restroom, galley, electricities, or audio.
Mizuha's cabin "Funa-mizuya" should showcase sophisticated craftsmanship of Edo/Tokyo for guests to see, touch, and feel.
Key points for boat designing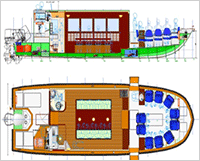 Approx. 2 meters high from waterline
Restrain rolling from backrushes by bigger boats at Sumida-gawa River and Tokyo Bay
Enough width for habitability
Smooth cruising capability even weight of all guests concentrate on front deck bench
Restroom, galley, air-conditioners are must
→Dr. Nakao, President of Alpha Craft Co. realized our complex requirements
Key points for shipbuilder's selection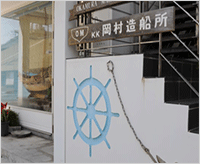 Should be experienced in passenger boat building
Good at using wooden materials
Lead time
Doing careful work
Production lines were full at nearby shipbuilders in Miura Peninsula. Some of them could offer good lead time but only have experiences in fishing boats. We searched and seached, over and over, and finally found Okamura Marine Craft in western Izu Peninsula in Shizuoka Pref.
Shizuoka is not too far from Tokyo. They were empathetic enough to listen to our wish.
Building process
Jan. 2013, started manufacturing hull mold
Apr. 2013, began FRP lamination
May. 2013, removed mold and started outfitting and furnishing
Launch Ceremony!
Mizuha was launched on June 24, 2013.
Ensouling ceremony by Shinto priest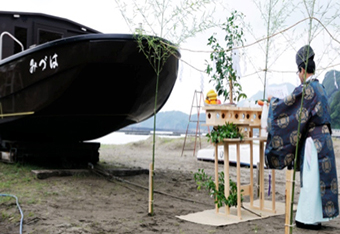 *With voice.
 Squeaky noise of launching rails may sound uncomfortable.
After boat inspecton by JCI, delivered to Tokyo by a 40FT trailer.
Second launching ceremony on June 27, 2013
Mizuha was born with so many supports, collaborations, and love.
We could say nothing but "THANK YOU!!!"
Now Mizuha is in our hands. See how we nurture her!