Bridges of Lights Cruise (Nihonbashi to Ryogoku)
City lights and bridge illuminations in 80 min. tour
Tokyo's city lights are back. Renewed lightings of Bridges of Sumida River are superb amplifier of Tokyo night view. We go out to Tokyo Bay to view Rainbow Bridge, then go on to Sumida River to enjoy co-starring of 11 bridges from Tsukiji-Ohashi to Azumabashi.
Dates

July 15, and 16 20:00

July 23 19:00

July 30 20:00

Departing Pier

Nihonbashi Pier

Arriving Pier

Ryogoku Pier

Cruise Fee

Adult Yen4,500, School age child under 12 Yen2,300, infant/toddler free, tax included.

Combo ticket with Kiyosu Bridge tenugui: Yen5,600, tax included.

with one drink (beer, tea, or soda in can), English guide, souvenir, and river map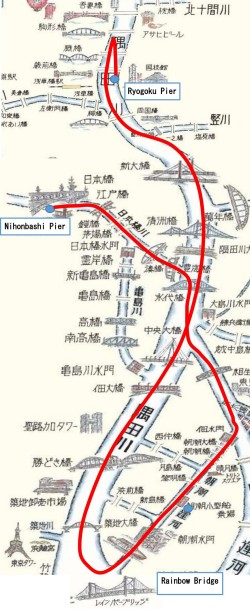 *Click a map to enlarge.
Available only at Mizuha. Combo ticket with Tenugui cotton towel, Yen5,600
Kiyosu Bridge of 1928 is said to be the most graceful bridge among the bridges over Sumida River. This is our most favorite bridge and we put its shape into our logo mark. Nihonbashi's established shop Todaya, who handles a traditional stencil-dyed craft "tenugui" cotton towel, has a tenugui of Kiyosu Bridge. As this is going to discontinue, we asked them to keep its stencil to dye for us. We have started to offer combo ticket of Tokyo City of Water Cruise and Kiyosu Bridge tenugui for Yen5,600 (cruise ticket is Yen4,500). This is a special offer only available at Mizuha. Regular price of tenugui only is Yen1,620. Choose a combo ticket when you make a reservation. Will give you a tenugui when you get on board.