Cherry Blossom Corridor Cruise Mar.24 & Apr.1
Enjoy hidden cherry blossom corridor in East Tokyo
Fukagawa area of East Tokyo is famous for cherry blossom along canals, however there are many low bridges. When the tide is high, our boat is not able to pass under these bridges. We carefully selected the date and time with the low tide during a daytime to take you to a cherry blossom corridor for 90 minutes. Let's go to admire spring bloom coming toward us one after another.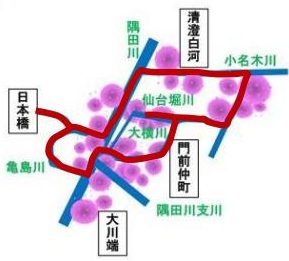 Nihonbashi-Sumida River-Oyoko River-Sendaibori River-Oyoko River-Onagi River-Nihonbashi
As the route has many low bridges, we may be obliged to change the route depending on the tide situation of the day. We may go around from an opposite direction based on the tide situaton and wind direction of the day.
Date& Time

Mar. 24 2:00 p.m.(90 min.)

Apr. 1 10:30 a.m.(90 min.)

Departing & Arriving Pier

Nihonbashi Pier

Cruise Fee

Yen4,800/person, Yen2,400/child age 6-12, infant/toddler for free,

with a souvenir, tax included

English guide available.
*Our cruise will be cancelled in case:
- Rain with hourly precipitation 0.3mm or more is expected.
- Strong wind is expected.
- Reservations do not reach the minimum passenger count 2 days before the cruise date.
Reservation accepted by web form or phone
TEL 070-6476-9827
Advance payment online.
Cherry blossom viewing cruise is a name of the service we offer. We WILL NOT guarantee the time of bloom. Even if you cancel your reservation because cherry blossom is not in bloom, cancellation fee shall be charged as specified in the reservation confirmation.