Experience the Lock! 10/19, 11/2, and 11/3
Ogibashi Lock reopened since Aug. 1, 2019 after the reinforcement work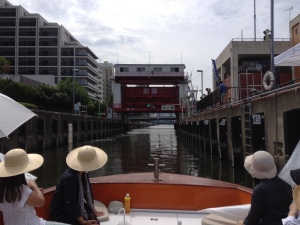 The water level of rivers and canals at east Tokyo low land is always kept 1m lower than that of the lowest tide of Tokyo Bay and it has become possble by the locks. Differences of water levels between the inside and outside of the lock are 3m at its maximum.
How do boats come and go through two different water levels?
The best way to understand the mechanism is to get on a boat. Here you can experience how water levels are adjusted in the lock chamber!
You will be "locked up" in the chamber!
Dates

Sat. Oct. 19 LV11:30

Sat. Nov. 2 LV13:00

Sun. Nov. 3 LV13:00

**90 minutes for each cruise

Departing & Arriving Pier

Nihonbashi Pier

Cruise Fare

Adult Yen4,000, Child age 6-12 Yen2,000, Infants & toddlers free, tax included

With English guide and souvenirs
Available only at Mizuha. Combo ticket with Tenugui cotton towel, Yen5,100
Kiyosu Bridge of 1928 is said to be the most graceful bridge among the bridges over Sumida River. This is our most favorite bridge and we put its shape into our logo mark. Nihonbashi's established shop Todaya, who handles a traditional stencil-dyed craft "tenugui" cotton towel, has a tenugui of Kiyosu Bridge. As this is going to discontinue, we asked them to keep its stencil to dye for us. We have started to offer combo ticket of Tokyo City of Water Cruise and Kiyosu Bridge tenugui for Yen5,100 (cruise ticket is Yen4,000). This is a special offer only available at Mizuha. Regular price of tenugui only is Yen1,620. Choose a combo ticket when you make a reservation. Will give you a tenugui when you get on board.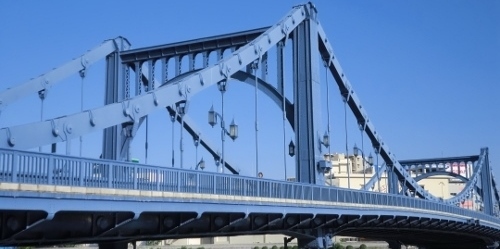 Attentive hospitality with style.
☆How we are different.
・English support available from the reservation to the end of your cruising with prompt response.
・Our boat has both a full-open deck with buena vista and a chic, well-equipped cabin. All guests can stay outside or in a cabin. Since our engine is outboard, no worry about fuel smell or engine noise.
・We have a table both at a deck and a cabin. BYOD, BYOF welcome. No cork charge. Enjoy your own picnic.
・Our cruise comes with a Tokyo-taste little souvenir.
・Also comes with our original file folder showing Tokyo water paths.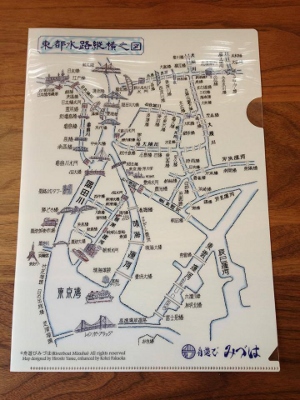 Contact us for reservation
TEL 070-6476-9827(Leave the message with contact information when we cannot take your call.)
Payment in advance thru our reservation system.