HOME
>
みづはのかわら版一覧
> Twilight & Evening Cruise Schedule for August & September
Twilight & Evening Cruise Schedule for August & September
2019 season has ended. Will resume in 2020 in May.
Great way for an evening chill-out! 2019 season starts from June 1!
*Click to enlarge the photo.
Enjoy changes of colors of the sky and nightscape of Tokyo.
60 minutes of extraordinary experience. Towns under twilight, illuminations of bridges of Sumida River, Tokyo Tower, and Rainbow Bridge. You can see all of them from our open-air front deck "Funa-Sajiki" !

*Adult: Yen3,600, Child under 12 years old: Yen1,600
Tax included, child under school age for free
60 minutes with a canned beer or a bottled tea, English guide, small gift, original river map *BYOD, BYOF welcome

*Departing & Arriving Pier: Nihombashi Pier

Limited time offer! Combo ticket with our 5th Anniversary Special Tenugui cotton towel, Yen5,300
Our original tenugui cotton towel designed and dyed by Nihonbashi's established shop Todaya, who handles a traditional stencil-dyed craft "tenugui" cotton towel. They blended pigments to represent Mizuha's body color and designed motifs of bridges we see during our cruise with black-headed gulls, kirin of Nihonbashi Bridge, and our logo mark.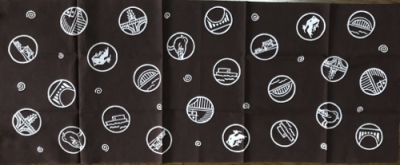 Cruise Schedule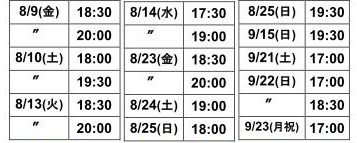 *Additional date: 8/21 LV 18:30
*We will operate a cruise under light rain but may cancel a cruise in case of heavy rain.
Table legends: 日=Sun., 月=Mon., 火=Tue., 水=Wed., 木=Thu., 金=Fri., 土=Sat., 祝=Holiday
Attentive hospitality with style.
☆How we are different.
・English support available from the reservation to the end of your cruising with prompt response.
・Our boat has both a full-open deck with buena vista and a chic, well-equipped cabin. All guests can stay outside or in a cabin. Since our engine is outboard, no worry about fuel smell or engine noise.
・We have a table both at a deck and a cabin. BYOD, BYOF welcome. No cork charge. Enjoy your own picnic.
・Our cruise comes with a Tokyo-taste little souvenir.
・Also comes with our original file folder showing Tokyo water paths.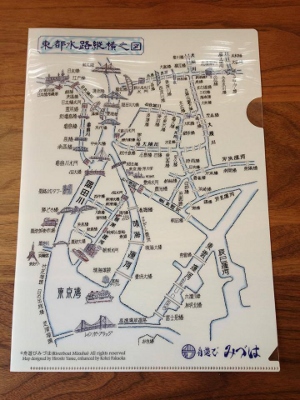 Contact us for reservation
TEL 070-6476-9827(Leave the message with contact information when we cannot take your call.)
Payment in advance thru our reservation system.