Enjoy Dusking Sky and Panorama View of Tokyo Bay with Evening Breeze
Shinonome Canal still keeps the 1920's old breakwater which has been an deserted island. Across the island, there are sport event facilities and a new fish market of Toyosu. Look at the old and the new of this area, feeling dynamic change of Tokyo. Right after you pass under the bridge, a sunset panorama view of Tokyo with splendid Rainbow Bridge will welcome you.
> Go to reservation        *Click a map to enlarge.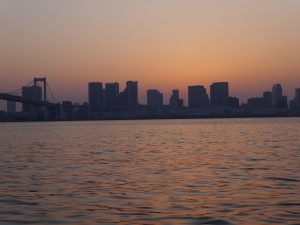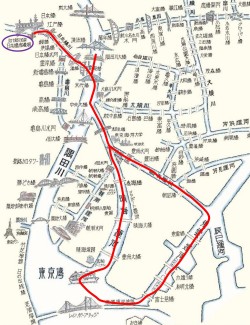 Cruise Schedule and Fee 
July 9 18:20
July 16 18:20
August 19 17:50
August 20 17:50
August 26 17:40
*Adult: Yen4,300, Child under 12 years old: Yen2,200
*Combo ticket with our 10th anniversary tenugui: 5,700
Tax included, child under school age for free
75 minutes with one drink (beer, tea, or soda in can) river map, souvenir, and English guide *Departing & Arriving Pier: Nihonbashi Pier
Combo ticket with our original Tenugui cotton towel, Yen5,700
Our original tenugui cotton towel designed and dyed by Nihonbashi's established shop Todaya, who handles a traditional stencil-dyed craft "tenugui" cotton towel. This picture shows the past, present, and future of Nihonbashi.
Riverside warehouses of fish market, rowing boat, fish seller with carrying pole, and carriages represent the past.
Nihonbashi Bridge (1911-), cars, Mitsukoshi Department Store building, kayakers, and Mizuha (our boat) represent the present.
Nihonbashi Bridge without Metropolitan Highway that currently exists above the bridge represents the future.
You can see a samurai, ladies in kimono with traditional chignon hairdo from Edo Era, a parent and a child from Meiji Era, and people nowadays cruising with Mizuha, across time and space.
Combo ticket of Bridges of Lights Cruise and our original tenugui is a special offer at Yen5,700 (cruise ticket is Yen4,300). Regular price of tenugui only is Yen1,750. If you care for it, choose a combo ticket when you make a reservation. Will give you a tenugui when you get on board.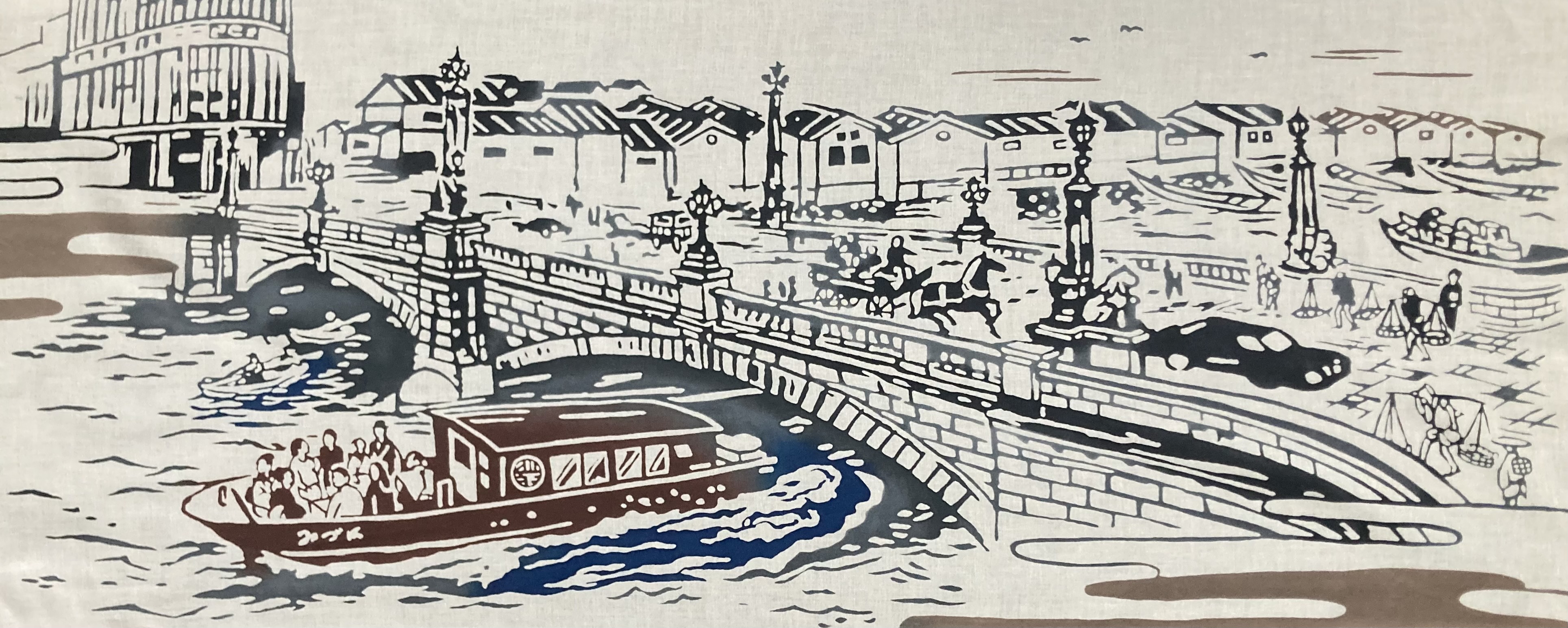 >> In case of strong wind or high waves, our captain may change the route.
>> In case of light rain, we usually conduct a tour, but of heavy rain or windstorm, we cancel a tour. Usually our decision is made one day before and we will notify you of a cancellation and make a full refund.