Twilight & Evening Cruise = Schedule for July =
Twilight & Evening Cruise from Nihombashi! After Work or in Weekends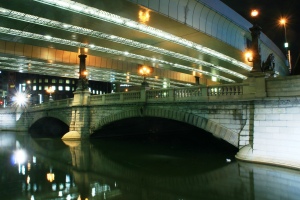 Enjoy changes of colors of sky and nightscape of Tokyo. Towns under twilight, illuminated bridges of Sumidagawa River, Tokyo Tower, and Rainbow Bridge. You can see all of them from our open-air front deck "Funa-Sajiki" ! Twinkling city lights of Metropolis welcome you. Refresh your mood after work with extraordinary landscape.
Adult: Yen3,500, Child under 12 years old: Yen1,500
Tax included, child under school age for free
(With one can of beer or bottled soft drink, small gift, Englush guide available)
BYOD, BOYF welcome
Our cozy cabin "Funa-mizuya" is equipped with a restroom and
an airconditioner. Ideal retreat for sudden shower or chilly weather.
Our open-air front deck "Funa-sajiki" allows you full-open view.
Time Table and Route
Cruise departs from Nihombashi Pier.
Passenger capacity up to 10 people for each cruise.
17:30 = 5:30 p.m., 18:45 = 6:45 p.m., 20:00 = 8:00 p.m. *On Jul. 19, departs at 4:45p.m. instead of 5:30p.m.

◆Cruise route (60minutes)   
Nihombashi-Kamejimagawa River-Sumidagawa River-Rainbow Bridge-Asashio Canal-Eitaibashi Bridge-Nihombashi
Contact us for Reservation
Use our inquiry form or call 070-6476-9827. We may not be able to take your call during a cruise operation. We will come back to you if you leave us a message with phone no.
We request advance payment for the reservation by a group of 7 or more people. Follow our payment instruction stated in a reservation confirmation. A group of 6 or less people, pay your cruise fare when you check in at the pier.
For other terms and conditions, see "Terms and Conditions"   
Cancellation fee will not be charged until 14 days before your cruise date. Provided that there is a vacancy, you can change a date. Even if a change is accepted, the course you reserved may have to be changed due to weather/tide conditions.