Bridges of Lights Cruise in Dec.
Full coverage of 12 bridges of Sumida River
Full coverage of 12 bridges of Sumida River illuminated in beautiful lightings. Lightings of 9 bridges are designed by Motoko Ishii Lighting Design. Great way to find Tokyo is a city of bridges. We travel Sumida River down in 100 minutes.
Cruise Fare: Adult Yen4,500, School age child under 12 Yen2,200, infant/toddler free, tax included.
    Combo ticket with Kiyosu Bridge tenugui: Yen5,600, tax included.
    with complementary hot drink, guide, and souvenir
Route C From Koumebashi to Asashio
※地図をクリックすると拡大します。

This route is for winter season to avoid cold head wind as much as possible.
We depart Koumebashi Pier at Kitajukken River and visit Shirahige Bridge in upper area of Sumida River. Then turn around and travel down the river to Tsukiji Ohashi, at the end of Sumida River to get off at Asashio Pier.
100 min. to travel 9 km.
◆Dates in Dec.: Dec. 4 4:30 p.m.
       Dec. 18 4:30 p.m.
Winter delight with Kotatsu Leg Warmer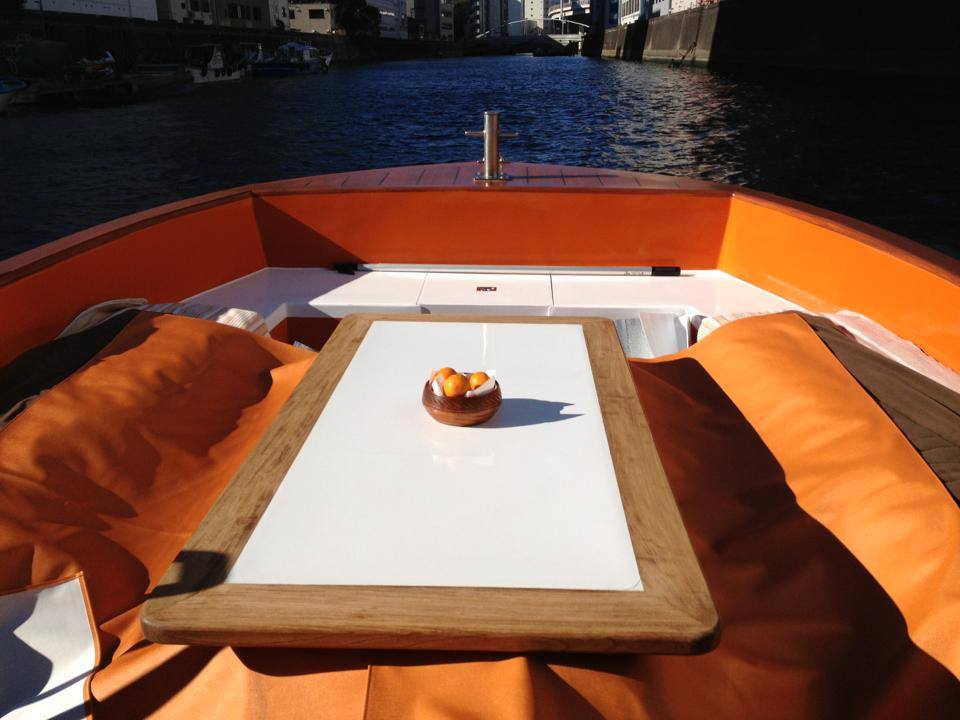 We prepare kotatsu let warmer with electric mat and blanket. Help yourself with a complimentary hot drink such as Japanese tea, bleck tea, or hot chocolate.
Koumebashi Pier Newly Opened in 2020 near Tokyo Skytree
New pier opened at the new waterfront location "Tokyo Mizumachi". You can bring fine sweets or coffee from the shops in Tokyo Mizumachi.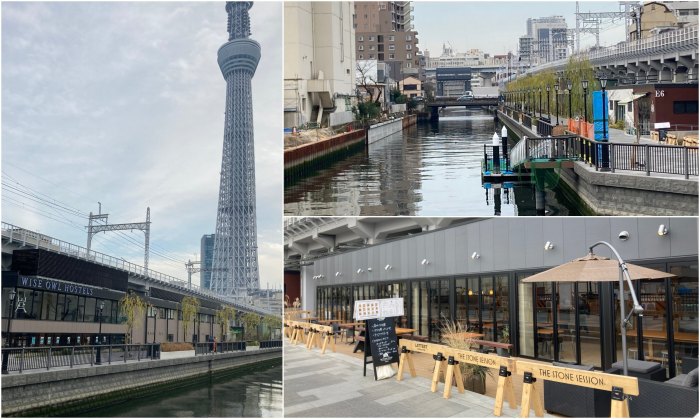 Tokyo Mizumachi https://www.tokyo-mizumachi.jp/en/
Available only at Mizuha. Combo ticket with Tenugui cotton towel, Yen5,600
Kiyosu Bridge of 1928 is said to be the most graceful bridge among the bridges over Sumida River. This is our most favorite bridge and we put its shape into our logo mark. Nihonbashi's established shop Todaya, who handles a traditional stencil-dyed craft "tenugui" cotton towel, has a tenugui of Kiyosu Bridge. As this is going to discontinue, we asked them to keep its stencil to dye for us. We have started to offer combo ticket of Tokyo City of Water Cruise and Kiyosu Bridge tenugui for Yen5,600 (cruise ticket is Yen4,500). This is a special offer only available at Mizuha. Regular price of tenugui only is Yen1,620. Choose a combo ticket when you make a reservation. Will give you a tenugui when you get on board.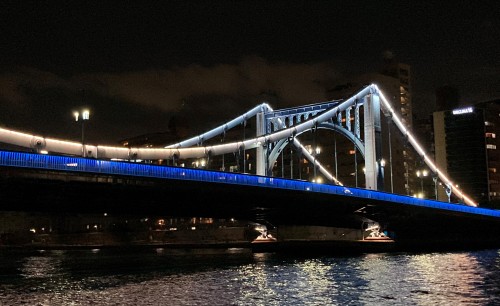 ※In case of strong wind or high tide, our captain may change the route.
※We may cancel our cruise in case of heavy rain or strong wind. Usually we make a decision one day before and will notify you of a cancellation in such case.