HOME
>
みづはのかわら版一覧
> Dec.7 to Dec. 25 Holiday Private Charter Package for 60-90min.
Dec.7 to Dec. 25 Holiday Private Charter Package for 60-90min.
Away from the Hustle & Bustle of a Big City...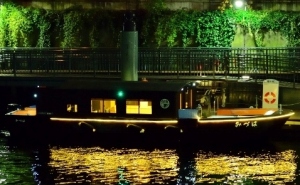 Private holiday party on board.
Spend on our deck with kotatsu foot warmer or stay in a cozy cabin like a floating bar.

Let's make unusual holiday memories under a sunny crisp winter sky or lucid Tokyo city lights with champagne. See Rainbow Bridge's main towers lluminated in rainbow colors only a limited time during the holiday season.
At the Season of the Most Beautiful Night View!
Dates of offer

Thu., Dec. 7 to Mon., Dec. 25

Departing & Arriving Pier

Nihombashi Pier or Kchidoki Asashio Pier

Cruise fare

+Easy small group charter (60 min.)

Fixed course in 60 minutes! Good for 8 people or less 

*1~6 people Yen39,000, *7 people Yen44,350, *8 people Yen49,700 tax included


Note: If you are a group of 9 people or more, whole boat charter is less expensive per person.


+Whole boat charter(60 to 90 min.)

Flexible in choosing routes & duration! Good for 9 people or more, or those who prefer longer than 60 minutes.


*60min. Yen50,000, *75min. Yen61,000, *90min. Yen71,500 tax included


Both plans include:

A bottle of champagne (Lanson Black Label or equivalent 750ml)

A loaf of stollen by Cawaii Bread & Coffee (cut in pieces)

Japan-taste souvenir

*Chance to win a tenugui cotton hand towel of the animal symbol of next year's Oriental zodiac for each tour.
※Feel free to bring your own food or drink. You can take out champagne and stollen.
※Send reservation request 5 days at the latest before your preferred date.
*Cruise will be operated even if it rains. If we have to cancel the cruise due to stormy weather, we will usually inform you a day before. In such case, we will make a refund.
*Payment in advance. When we confirm your reservation, we will inform you of the payment information.