HOME
>
みづはのかわら版一覧
> "Most Delightful Hanami, Ever" Shared Cruise Reservation
"Most Delightful Hanami, Ever" Shared Cruise Reservation
Cherry Blossom Viewing Boat from Nihombashi: Mar. 27 to Apr.9, 2014
*Depending on a bloom situation, slight change of event duration may occur.
Metropolitan area Downtown area
Nihombashi Fukagawa
Sumida-gawa River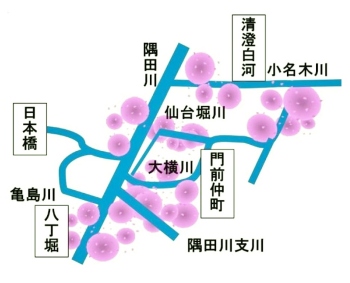 We operate shared cruises to allow a small group to enjoy cherry blossom viewing on board. River banks of eastern Tokyo area "Fukagawa" are known for significant concentration of cherry trees.
Share the joy of spring by cruising along rows of cherry trees in Fukagawa.
"Special Event!
Hanami Tea Ceremony Cruise"
 Fri. Apr. 4, 1:00 to 2:30 p.m.(90min.)
Open air tea ceremony on board while drifting along corridor of cherry blossoms in Fukagawa.
Yen6,000 per person (tax included)
(Tea ceremony, sweets, small gift, and riverguide are included)
Cruise Schedule = New Dates Added! = (Passenger up to 10 for each cruise)
*14:15=2:15p.m., 15:30=3:30p.m., 17:00=5:00p.m., 18:15=6:00p.m., 19:30=7:30p.m.
*Pale pink cell = Newly added dates
*Rose berry pink cell = Hanami tea ceremony cruise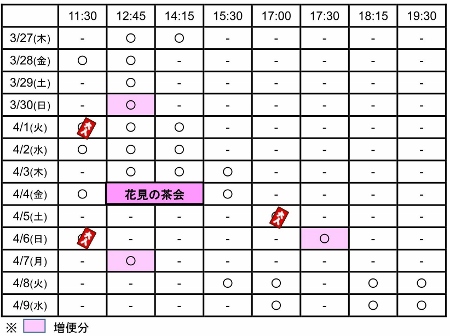 ※We may shorten or change the cruise route due to a sudden change of weather, wind speed, or tide level.
We may cancel the cruise when storm is expected.
※If you prefer a private charter, see Hanami Private Charter.
Discover Tranquility in Fukagawa Hanami
Shared Hanami Cruise:
Yen3,500 per person Child under 12 Yen1,500 (tax included)
(Riverguide and a small cherry-color gift are included)
Nihombashi - Hacchobori - Sumida-gawa River - Monzen-nakacho or Kiyosumi-shirakawa - Sumida-gawa River - Nihombashi
※According to the tide level, we will select the best route for cherry blossom viewing.
= What makes Mizuha different from other cruises? =
・Trace a good old time cruise enjoyment.
・Full view of cherry blossom from our front deck "Funa-sajiki". Better view compared with houseboats
without a deck. Comfortable bench seat with cushion. Fleece lap blankets and robes are available for chilly day.
・When you feel chilly, we have a warm cabin. Still you can enjoy bloom from windows.
・BYOF and BYOD are welcome. You can pick up your favorite food at nearby Mitsukoshi or Takashimaya department store. Hanami picnic on board!
・Restroom is available.
・Cruise comes with a little a gift in a cherry color.
・We do not go to Asakusa cherry blossom area where many large waterbus and houseboats
come and go during hanami season. Quieter, more reluxed time is guaranteed.
Contact us for Reservation
Use our inquiry form or call 070-6476-9827. We may not be able to take your call during a cruise operation. We will come back to you if you leave us a message with phone no.
We request advance payment for the reservation by a group of 7 or more people. Follow our payment instruction stated in a reservation confirmation. A group of 6 or less people, pay your cruise fare when you check in at the pier.
For other terms and conditions, see "Terms and Conditions"   
We will not guarantee the time of the bloom. If you cancel your reservation because cherry blossoms do not bloom, such cancellation is subject to the prescribed cancellation fee. (Cancellation fee will not be charged until 14 days before your cruise date) Provided that there is a vacancy, you can change a date. Even if a change is accepted, the course you reserved may have to be changed due to weather/tide conditions.